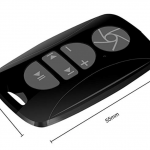 Sometimes when I'm calling (especially One Night Stands), I want to go onto the floor to demonstrate.  But then, I'm too far away from SquareDesk to be able to control the music.  That's where a Bluetooth Remote Control comes in!
This tip might be useful for other callers not using SquareDesk on Mac OS X — the process should be similar with other applications, and with other operating systems.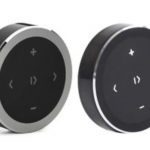 Of the two remotes, the Fintie remote is rechargeable via a Micro B USB connector.  The BT Remote Control Button is not rechargeable, nor is the battery replaceable, but the manual says it should last about 2 years.  The Fintie comes with keychain loop, while the Button comes with a double-sided sticky circle, which can be used to attach it to your equipment or wherever you prefer.   I prefer the Fintie on my keychain, but it is a bit more expensive.

To get a Bluetooth remote working with SquareDesk on Mac OS X:
Buy a Bluetooth Remote Control.  I've had success with two different models:

Fintie Bluetooth Remote Control (about $12 from Amazon)
Bluetooth Remote Control Button (about $5 from Ebay)

Follow the instructions that came with the BT remote to pair it to your laptop.  You'll only have to do this once.  In this screenshot, I've paired both of these remotes to my Mac laptop.  "Bluetooth Remote Shutter" is the Fintie, and "SmartRemote" is the Bluetooth Button.

Download and install a copy of Karabiner Elements. Configure Karabiner Elements as shown here:

In SquareDesk (version 0.9.2alpha7 or later — let me know if you would like access to the Alpha version via Dropbox!), go to Preferences > Hotkeys, and configure as shown.  Note that the F16/F17/F18 can go in any of the columns, it doesn't matter which one.  Just make sure that F16 is in the Play/Pause row, etc. When you're done, click OK to close the Preferences dialog.



Test it out!  When you press a remote button, it's just like pressing a key (like F16) on the keyboard, and you've setup SquareDesk to understand that F16 means Play/Pause.

Try playing some music, and test all the buttons.  Note:  the "previous button" will go to the beginning of the song, if you aren't there already, and a second press will take you to the previous song (this is the same way iTunes works).  + and – buttons will adjust your Mac's system volume (which should be fine, because we want to change the Volume for all songs, rather than just for this song).  And, the Play/Pause button should, well, play and pause the music.

The shutter button on the Fintie only does Volume Up, as it true of some other BT remotes, so I don't use the shutter button.
Give it a try and let me know if you found this useful!